I didn't even know I was thirsty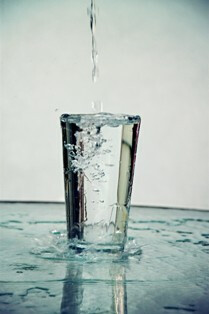 It's been said that if you don't drink enough water you gradually don't even recognize your thirst. I've found this to be true in my life. I had become so random and haphazard about personal time reading and reflecting on God's Word that I didn't recognize how dehydrated I was. Yes, I read the Scripture that goes along with my daily devotional and yes, I listened closely to the messages on Sunday. That seemed to be enough.
It had also been a while since my micro-group (comGroup with three other ladies) finished the book we were studying. Our gatherings had become mostly "share and prayer" and often we ran out of time for prayer. We decided that we should actually add some Bible to our time and decided on 1 and 2 Peter. This prompted a search for study materials to guide us. One group member reminded me of the 3-question method, no commentary required; just the Bible and the Holy Spirit. A little refresher online led me to some worksheets prepared by Anne Graham Lotz. After a prayerful reading of the passage of Scripture (a few verses) ask:
What does it say? Make a verse-by-verse list of the most obvious facts. Be literal as you answer.
What does it mean? For each fact list a spiritual lesson (e.g. command, promise, exhortation, etc.)
What is God saying to me? Rewrite the lesson from #2 as personal question.
As I approached 1 Peter 1:1-2 on that first morning, it was as if the drought in my soul was over. The rain had come. I moved from facts, to lessons and then asked God what he wanted to say to me. From those two brief verses came questions from God that stayed with me the entire day:
Am I looking more and more or less and less like the world?
Does my identity lie in the truth that my Father knows and chose me or do I live as if I chose Him (and could unchoose)?
Am I seeking to be more obedient to Jesus by relying on the Holy Spirit or by inconsistent effort?
What measure of grace and peace is evident in my life? Minimal? Abundant?
I hope to never let my soul get so cracked and parched again. But I'm grateful to know that, "All men are like grass, and all their glory is like the flowers of the field; the grass withers and the flowers fall, but the word of the Lord stands forever." 1 Peter 1:24-25